AmeriCorps May Be the Right Choice for You
I have been working with AmeriCorps members here at Sonoma State for almost 5 years. It has been a pleasure as well as a learning experience for me. It's exciting to see new graduates learn about our community partners and the community at large while making connections that benefit them in the future. In fact, all SSU /CCE past AmeriCorps members have gone on to careers in the nonprofit sector and/or grad school. I'm really looking forward to working with the next group of AmeriCorps members this fall. You could be one of them! 
As an AmeriCorps member, you will help the CCE build deeper connections with our community partners, SSU students, and faculty. You will serve as a liaison between SSU students and one of our amazing community partners. This is an excellent Gap year endeavor. You will learn how community partners operate behind the scenes and meet many new people a long the way. You and your service are are vital to opening doors for students and community partners.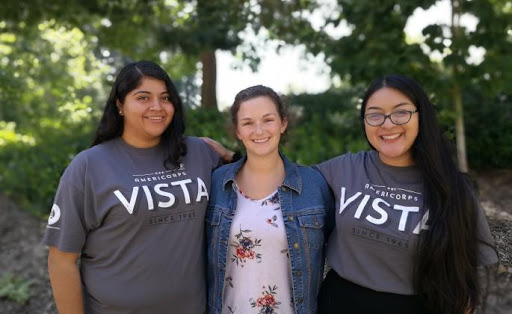 AmeriCorps members build and strengthen sustainable volunteer programs in existing service organizations. Members leave a legacy in the communities they serve by building lasting systems of volunteer engagement and management. Each Member provides dedicates service, working "behind the scenes" to enable volunteers, including Sonoma State students, to take part in meaningful service positions that meet community needs. 
Here's what Alexandria Anderson, who served for 2 years as an AmeriCorps member had to say:
"One day of the week in the Center for Community Engagement office at SSU, I primarily work with students and faculty members who teach service-learning courses. My goal is to strengthen the connections between the students and community partners, where there is a reciprocal relationship and students can connect to the larger issue of why their service is needed. Assisting with campus events and other workshops has allowed me to deepen my understanding and efforts of collaborative action and what these strategies should look like to reflect the continuous work to create change."
"I have been able to build capacity at both SSU and the City of Santa Rosa, where I spend the other 4 days of the week, and work toward creating sustainable changes. Through community building and outreach, volunteer management, event planning, and so much more, I have learned valuable skills and gained experience that I plan to use throughout my professional journey."
Some of the benefits to becoming an AmeriCorps member include:
Monthly living allowance of $2200.00 per month.

Education award upon service completion of $6895.00 

Experience in the nonprofit sector  

Professional development training, including statewide webinars with AmeriCorps members and staff

Certificate in Volunteer Management

Learn a wide variety of new skills

Serve alongside a cohort of AmeriCorps members
If you are a graduating Senior who is thinking about what your next step may be, apply to  become an AmeriCorps member. The next term starts on August 16, 2023 and will end in June of 2024. We are recruiting candidates now. For more information visit AmeriCorps VIP here. To apply go here. This could be the right opportunity for you. I look forward to working with you!