"Why does it matter? What are the implications in your life and broader world? Where do they fit in as a global citizen?" Dr. Garvin asks. "By having a community partner and realizing that when we do this together we all gain from it while obtaining a unique experience, which they would have never been able to experience if it wasn't for the service-learning component."
One of the Center for Community Engagement (CCE) Faculty Fellows, Dr.  Melissa Garvin, was able to sit down with us and discuss the work she has done within the community and the importance it holds within her life.  Along with being the 2017-2020 Faculty Fellow for the School of Social Sciences, Dr. Garvin is a faculty member in the Department of Psychology with an area of interest in the child and lifespan development.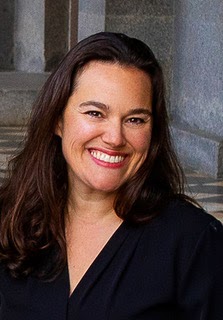 Dr. Garvin works with the Children's Museum of Sonoma County (CMOSC).  Part of the  museum's mission is "...CMOSC inspires children's creativity and stimulates their development by encouraging exploration in an open and accessible interactive museum." Dr. Garvin has her students from her child development course help their community partner by evaluating their exhibits in terms of the social, emotional, cognitive, and physical benefits. While also providing feedback for improving the exhibits as a whole, students also gain a particular level of understanding knowledge, skills, and abilities within the museum. 
"What I gained was being able to witness almost everything that you taught in class; connecting certain points mentioned in lecture with observing the children play.  For example, turn taking - my second time at the museum I saw a girl waiting for the toothbrush to be put down so then she could use it. She started reading a book to be near the counter where the toothbrush was [being used]. I witnessed how a Mom was telling her child how to brush the crocodile's teeth. Then the child did as her Mom modeled," stated one of Dr. Garvin's student's Peria Varquez about her service-learning class and how she applied it to her experience at the Children's Museum.
"While taking my first service-learning class, Child Development taught by Melissa Garvin, I engaged in hands-on learning through our community partner. Our final project included observing and working with the Children's Museum of Sonoma County. It was extremely rewarding to be able to apply what we learned in the classroom in order to assist the Museum and their efforts to engage and educate children," stated one of Dr. Garvin's students, Quinn Houchin.
Dr. Garvin shared that the importance of service-learning to her is that "as a member of the Sonoma State community and the broader community, it's important that we foster these connections and relationships that are mutually beneficial. I can see my students are able to provide as well as receive. Not only is it my job to foster my students' learning but it is also my passion."
Another student, Angelica Moralez expressed the following about her class and what she learned: "I feel like I gained the perspective of looking at the things children interact with, play with, feel and think at a place [like the museum]. I have since the beginning started to notice the physical, social, cognitive, and emotional benefits that my nieces and nephews are gaining everywhere we go; the park, the beach, home, store and other [places]. I have also noticed it with the children I work with at my afterschool program." 
One of the most important aspects of service-learning is the reciprocal relationship between the students and the community partner. Not only did the students gain from the experience, but also CMOSC benefited. "It's helpful for us, helps us with the child education, and child development aspect of the work we do. It highlights what we know to be true, but may not be as clear to our visitors and funders. It supports our work academically. We love having the collaboration with the University," said Lauren Hodge Peters, Director of Program and Marketing.
[Related: Deepening Service-Learning With Missy Gavin]
Considering all that Dr. Garvin does to help others in the community, she is a firm believer in the use of service-learning in the classroom and community engagement beyond.